This is a very traditional and popular Greek dish with small variations from region to region. It has its origins in ancient Greece, when they used to call them "thria" ("θρία"), but after the Ottoman invasion the dish was renamed "dolmadakia" (or "yaprakia"), deriving from the Turkish verb "dolmak", which means "to be stuffed".
It's always best to be made with fresh vine leaves and the best time to pick them (or buy them fresh) in Greece is between April and June, when they are still small, soft and tender. In some cases, you may pick tender ones even later in the summer. I pick them or buy them in large quantities and I preserve them in the freezer for about a year!
Here are the instructions on how to preserve vine leaves in the freezer for up to a year:
2. Fill a large pot with water, add salt and let it boil
3. Gradually soak them in the boiling water for a couple of minutes until they become slightly darker in colour (blanch about ten at a time)
4. Pat them dry and divide them in bunches of 40-60 pieces
5. Wrap them well and freeze them
If you don't have access to fresh vine leaves you can always buy the ones preserved in brine, which you can find in most supermarkets or deli shops.
"Dolmadakia" can be eaten as an appetizer or a main course and they can be served plain with some lemon juice, with hummus, or Greek-style strained yogurt.
60 vine leaves (fresh or in brine)
2 cups short grained white rice (can be replaced with quinoa or cracked wheat)
1 cup chopped dill (keep the stalks)
1 cup chopped parsley (keep the stalks)
1 teaspoon lemon zest
2
½ cups of water
Juice of two lemons (plus extra lemons to serve)
If you are using fresh vine leaves, first you need to wash them and blanch them for couple of minutes (the same procedure described above for preserving them in the freezer). Put them aside and let them cool.
In the meanwhile start preparing the rice. In a large bowl add the rice, chopped onions (dry and fresh), the mint, dill, chives, and parsley, the lemon zest, half cup olive oil, salt and pepper. Mix well with your hands or a spoon.
Place the vine leaves smooth side down on a clean surface and heap a teaspoon of filling into the centre, then fold the stem end and sides over the filling and roll as seen in the photos (you can make them as small as you like, just keep in mind that the rice will double in size when cooked, so don't use more than a teaspoon of rice filling for each vine leaf or they will end up quite large in size or they might open).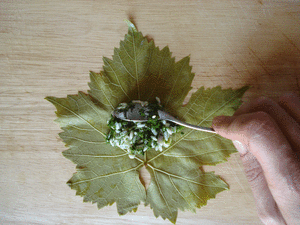 Lightly oil a heavy-based large pan and line it first with the parsley and dill stalks and plain vine leaves on top (we do this to protect the stuffed ones from sticking onto the pan or burning plus the stalks add an extra aroma to it!).
Tightly pack and arrange the vine leaf rolls in a circular manner, seam side down, as seen in the photos. You do this in layers until all your rolls are neatly arranged in the pot.
Pour the remaining olive oil, the lemon juice and some extra salt and pepper. Cover again with plain vine leaves and invert a plate over them to keep them packed firmly.
Add the water (it should reach the plate, so you might need to add some more according to the pot you use) and cover the pot with a lid. Simmer on low heat for about an hour or until the rice is cooked, checking occasionally whether you need to add some more water. When ready, allow them to cool down for a while. Remove them from the pot (straining them from the remaining liquids) and transfer them onto a serving plate. You may serve them with additional lemon, yogurt or hummus.